FireFightersEnemy.com
FireEMS Blogs Network
Updated: 1 year 5 days ago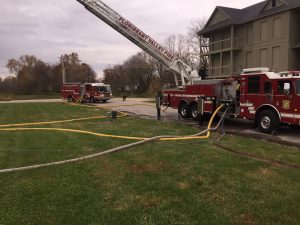 There has been a lot written, taught, debated and lectured on in regards to fire apparatus that fall under the definition of a quint.  If you look it up, there are several definitions of what a quint is and should be to be considered so, but it boils down to a very simple description.  The technical idea of a quint is that it must do five things, however, if you look at NFPA 1901, it lists well more than five functions.
My idea of a quint is more simplistic and easier to explain.  The real difference between a quint and a traditional ladder truck is that the quint is designed to function as an engine (attack lines, booster tank, pre-connected hose, etc.) with an aerial device on it and the ladder truck is designed for getting to high places and to be pumped in to for elevated master stream operations as its primary function.
There are some nuances that could be argued about what the differences are, but there is no doubt that a quint presents its own special set of challenges that every officer operating on one must consider. There are benefits as well, but this is not an article about whether a quint is good or bad, rather to address the real challenges of operating on one. Â Â It could be argued that being on a dedicated engine company, rescue company or truck company is easier than operating on a quint and having to fill multiple roles on any given call.
These are some challenges that I came to realize and understand after being a company officer on a 105' quint that was fairly busy.  The demands on our company was similar to those all over this country; be all things to all people.  We ran EMS, vehicle and technical rescue, hazardous materials, building fires, and any other incident that you could think of.
Our responsibilities were always dictated based on order of arrival and needs of the mutual aid agency.  This creates a challenge for any company, but it also never gets boring.  Here are few items for any company officer on a quint to consider and understand when operating on a quint.  This is not an exclusive list, just a short list of the most significant challenges we identified as a company.
Who Am I?
The first question begs to know "who am I" in terms of what my role is as an officer and crew when operating on a quint.  It can be a challenge in more ways than one.
First, when training we must focus on many skills and that come with the services provided or expected from the apparatus. For example, when I was a captain on our quint we would move up to St. Louis City FD and were typed as a hook and ladder.  Our job there, and on other assignments was to be a truck company and to operate as such.  This required us to be good and familiar with those skills.
Knowing that we could be called to fill the role of an engine company or a truck company required us to train and to get proficient at more skills.  The problem is not the desire, but the time that is available to fit it all in.  A dedicated engine company may spend a little time on truck skills, but they largely focus on their primary function; deploying and moving attack lines.
But, as I mentioned above, we enjoyed the challenge and worked hard to be proficient is those areas, creating some awesome training opportunities.  We just want to avoid the "Jack of all trades and master of none" when it comes to our proficiency on the fire ground.  This is by far the easiest challenge to work with and overcome.
Lack of Water
Quints are designed and built to be an all-purpose apparatus.  In doing so we may have to compromise in some areas to accommodate that system.  One of the areas that we see reduced significantly is the amount of water in the booster tank.  Depending on the configuration and how much emphasis is put into other areas of functionality, the water tank can be as small as 300 gallons.
As the officer on the quint, you must be very intimate with your flows and stretches and how they relate directly to the amount of tank water you have available to work with.  It can have a direct impact on your standard operating guidelines in regards to water supply for first due companies.  A lack of knowledge beyond the fact that you have 300 gallons of water is setting your company up for failure.
We must drill and train on a regular basis to determine our limitations with tank water and fire flow.  Gaining that intimate knowledge will better arm you for the call that doesn't go exactly like you expected.
A great way to ensure this is to flow test your lines and know exactly how much time you have with each attack line. If you don't have flow meters, Curt Isakson has some great information on timing your tank at Countyfiretactics.com.
Hose Limitations
Looking at what is trying to be accomplished with the quint, fire attack and water supply is in the equation.  There are small hose beds and crosslay trays for attack lines built into these designs.  Anybody that has ever worked on one will tell you stories of loading supply line by sliding hose up through a shoot under the turntable and how cumbersome that was.  Although great design improvements have been made, in most cases there are still significant limitations as it relates to hose capacity.
Here are some considerations for you as the officer regarding hose and line deployment.
You may be limited with how much LDH can be accommodated on your quint, know and understand how to deal with that limitation before you need the hose on a fire.
Attack line configuration could be challenging. Ensure you can adapt to be most effective in your response area.
Static line deployment may be limited in length requiring patience and a strong knowledge regarding estimation of stretches.
Consider your booster tank capacity when deploying static lines (3" to 1.75"), you could significantly reduce your available fire flow by as much as half or less. Know before you commit to an IDLH without a secure water supply—emphasis on the importance of the quantity of LDH or supply lines.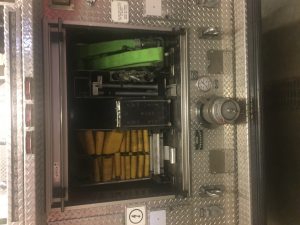 Positioning
Depending on your standard operating guidelines are written, it is likely that if you're running a quint, when it is first arriving it is the first attack engine.  This can vary per agency, but it is common for the  only apparatus with an aerial device in a department to arrive first and be the first due engine.
This can cause some positioning issues, even when the quint arrives after the first or second due engines.  As first arriving, it is the standard to get three sides of the fire building, which could put your aerial devise at a disadvantage from a positioning standpoint.  Extra care and planning needs to be conducted to ensure that the full potential of the quint is available on fires.
Ground Ladders
As we have discussed in the other areas of consideration of the quint, we again have to understand the limitations of space.  On some quints ground ladders take a back seat.  There are many configurations, but it is not uncommon to have some challenges in regards to access, number, and length of ground ladders.
Know the limitations of your ground ladders. How many do you have? What are their lengths?
Access can be an issue. Do they come off the rear?  Are some mounted on the aerial device?  Are there design obstacles that delay deployment of ground ladders?
Some examples of the bullets above might be like our situation. We don't have a 35' ground ladder on our quint. I was told because of the slide out hose beds and the water tank, there wasn't enough room for the larger ground ladder. It was a trade-off to try and get as many options as possible on the apparatus.
Additionally, the two roof ladders are both mounted on the aerial device.  This is great when working off the aerial, but cumbersome when working off the ground.  Placing multiple ground ladders takes more time and is limited when operating on that quint.
As you can see, there are limitations in many aspects of operating on a quint.  It's not an indictment of quints, just some challenges that the company officer must understand and learn to overcome when operating on similar apparatus. Over the years design and technology have allowed for some improvements in these apparatus and we see some of the same issues with engines designed to be all things to all people.
The important thing is that you are intimate with your apparatus and are aware of its limitations and capabilities and that you learn how to operate with consideration to both.
Building Teams for Leaders: It's the Basics
Any leader that is successful understands that he cannot do it alone.  The good leaders are well prepared and adept at building teams, especially building teams with future leaders.  Just one of the definitions of leadership states that leaders have the ability to get others to do things they might not do on their. I would add that leaders get others to do things they normally would not do, not because they have to, but because it's the right thing to do and is good for the whole, not just individuals.
This is my list for building a successful team. It's simple and you may have your own ideas of building teams. The purpose here is to share what I've found to work, and work well.  Implement into your systems and organizations or add your own spin, but the basics should remain.
BE a TEAM
This sounds simplistic and it is. However, leaders need to start acting and operating as a team.  It starts with small, seemingly unimportant things, activities and tasks. Operate and function together, ask each other for help and start drawing on the different strengths of each member.
The big challenge here is including those that may be difficult to deal with or who aren't bought in yet. Don't discount their contributions to the mission.
As the leader, delegation plays a large role in creating a team environment, don't feel like you must do it all or can do it better than anybody else.
EMPHASIZE the GROUP
This is based mostly on how you as the leader talk and act.  Use as few personal pronouns as possible and be inlcusive with information.  It's not your team, it's our team.  It's not their problem, it's our problem.
The more you over communicate to the group that everybody is important and their problems are everybody's problems, the quicker they will get on board. In many instances this is where pride starts to set in with the group.  That pride starts to turn into cohesiveness and then you see team-driven results.
ESTABLISH PRIORITIES and EXPECTATIONS–STANDARDS
There must be boundaries in the way of expectations and priorities. A team that doesn't know what is expected of them and that hasn't been explained to them the priorities is a team that will not have confidence in their role.
The leader must establish expectations that all team members will be held accountable to and priorities that focus on the successes of the organization and the team; not individual accomplishments.  Minimum standards must be included here, but expect the team to exceed the minimum. Whatever the minimum expectations and standards are laid out, the team should be encouraged and shown to surpass them.
Remember, what you allow becomes your standard.  That includes your actions and pursuit of excellence.
HAVE their BACK
Finally, make sure your team knows that you have their back when things go wrong.  When there are mistakes or your team has underperformed, take full responsibility. Don't let your team members take the blame.  It is your team operating under your expectations and standards, when it comes time for accountability, be the first to accept on their behalf.
The biggest mistake you can make is to shift blame to team members or "throwing them under the bus."  Even if the member is the primary cause for the mistake, you must accept that as yours.  When the time is right and your are with your team in private, you can sort out where extra training, more information or counseling is needed, not in front of your boss.
When your team knows you have their back, they will work hard to limit your exposure from their mistakes.  They will also trust you in other decisions and circumstances that are critical to the successes of the team and the organization.
Be an active participant in the team, not just an observer and work with your members. Trust only comes from familiarity and understanding and that only comes from building relationships in your organization.  The stronger and more effective the team, the more likely that the leader is doing their job.