VentEnterSearch
Updated: 1 year 6 days ago
Every day is a training day, and every call is a pre-fire plan… Captain Shawn Royall from Charlotte (NC) Ladder Company 23 sent in theses photos that prove this lesson. Have you gone to a medical call or public assist at a building like this in your first due? Did you just take care of the patient and leave, or did you take advantage of the time you were there? Did you position the rig like you wouls if the building was on fire? Did you at least discuss where and why you'd position like that on a fire call? Did you take the time to walk around the structure? If you did, this is what you'd find…
From the street entrance, what do you observe from your initial size up?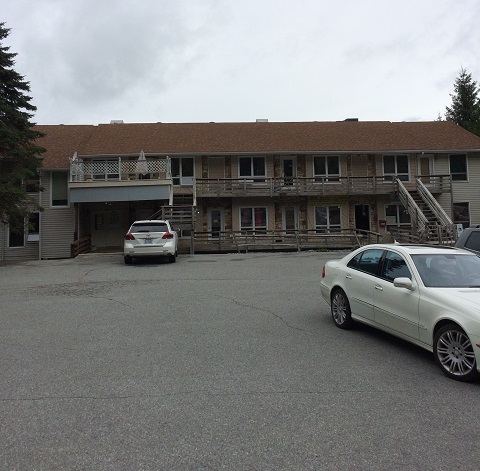 Two floors, apartment building, pitched lightweight truss roof, daytime and cars in parking lot, ordinary construction, unimpeded access to the building and roof.
As you walk closer to the building down the right side, unseen from the street….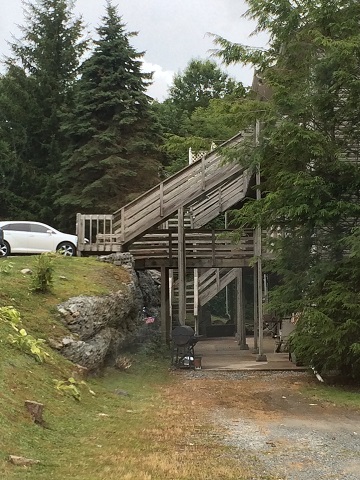 You have three floors, with one being below grade….
And then things start to really develop as you walk to the rear….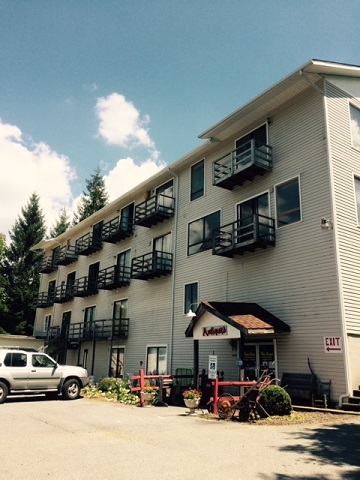 Now its 4 floors, a rear parking area with more cars, multiple units, and balcony's with no egress and a business that could possibly have multiple occupants.
And finally….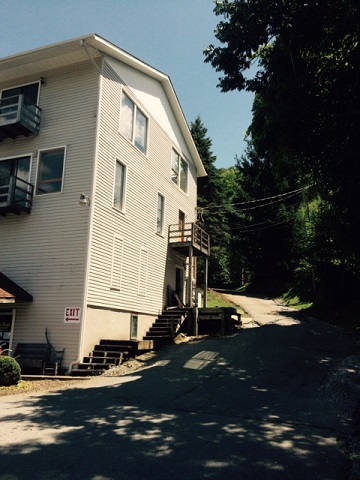 Access problems for apparatus due to grade incline and power lines.
As you can tell, this building is much more than it originally appeared. Discovering this for the first time on the fireground is not a situation we should ever find ourselves in. Nothing will ever replace the knowledge that pre-planning and knowing your first due will provide.
The post Look Close appeared first on VentEnterSearch.com.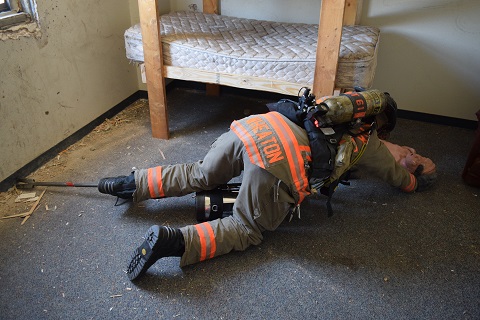 The VentEnterSearch crew will be spreading Can Confidence and Aggressive Search Techniques at the 8th Annual Ft. Lauderdale Fire Expo on October 27-29, 2016. We will be offering a full day program under live fire conditions in an acquired structure. We have been given three apartments in the structure pictured below.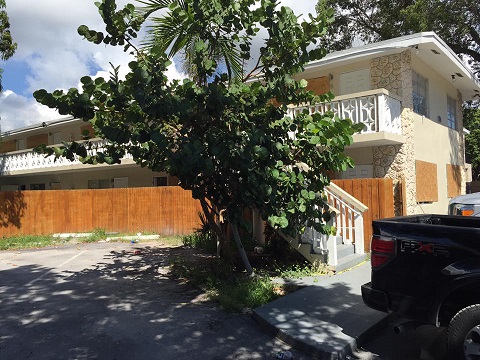 Click here for additional information or to register for the class.
The post Ft. Lauderdale Fire Expo appeared first on VentEnterSearch.com.
Senior Captain Jeff Jacobs from Houston (TX) Tower 69 sent in some photos of another homemade saw strap option. This one utilizes a flashlight strap that has been modified with a 2″ steel ring.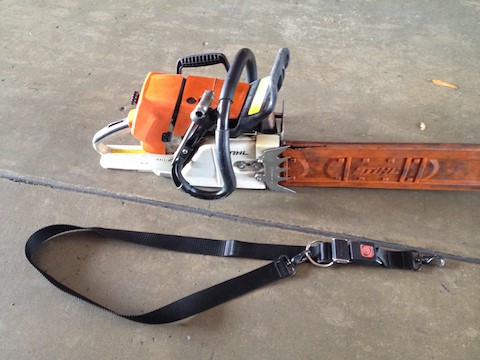 The steel ring is available from most hardware stores in a 2 pack for about $2. The steel ring is threaded on the strap in between the adjustment slider and quick release buckle.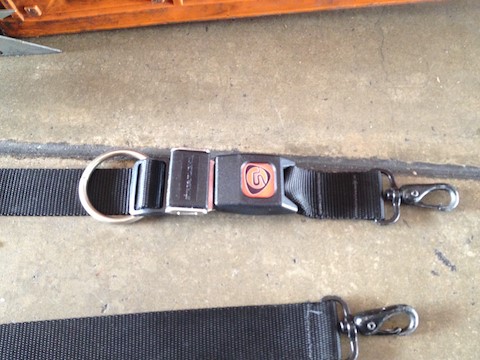 The working end of the strap can be looped around the carry handle of the saw and clipped into the steel ring.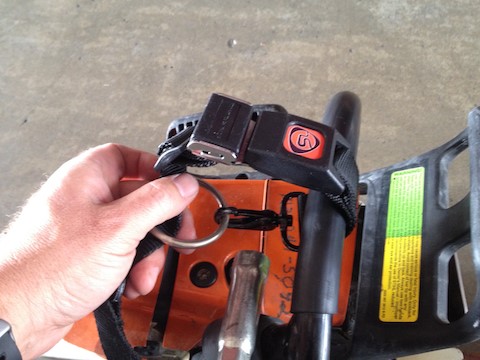 The strap is a flashlight strap that comes with the flashlights we carry on our truck… usually find a few of these laying around in an apparatus compartment on almost any truck in any station in our city.
Re-purposing a unused flashlight strap and a $2 dollar investment makes a easy to use, easy to remove saw strap. It's simple, cheap, and effective.
The post Two Dollar Saw Strap appeared first on VentEnterSearch.com.
VentEnterSearch will be spreading Can Confidence in Ft. Wayne (IN) for the Ft. Wayne Metro FOOLS. Jimm and Eric will be teaching the Can Confidence portion of a H.O.T. class in Auburn, IN this weekend (September 24th). There may be a spot of two left if you act fast. Click here for more information, and to register.
The post Can Confidence appeared first on VentEnterSearch.com.
We have a number of reviews that we have been meaning to post. One of which is on an awesome tool made by Lonestar Axe named the Piglet. Before we got around to documenting our thoughts on the tool, we received an extremely thorough review from one of our dedicated readers, Senior Captain Jeff Jacobs from Houston (TX) Tower 69. Below is the review in his own words:
Flashback to 1996. I am brand new in the fire service. I just landed a job in one of the biggest departments in the country. The guys I knew were buying wooden handled splitting mauls and chopping the handles down to the length they felt comfortable carrying. I made mine and carried it. Those mauls were fairly cheap and provided a good strike on just about anything on-scene, but the handles usually broke and that made the tool worthless and not very reliable. The striking head was round and inefficient, too. So, were they really effective? Who knows, but we liked having tools tucked in our straps when we were humping hose.
Thankfully the trend in the fire service has been moving toward dependable tools. Tools that work and are simply built better. Tools with innovative designs and better quality materials that are helping us achieve more efficiency on-scene. It is no wonder that I see more firefighters now paying out of pocket for the luxury of a good tool. While no single tool is always right for every situation on the fire ground, one recently created tool has really come to the forefront and it bears a lot of hype. A simple tool that doesn't try to do it all and doesn't try to use the Swiss Army Knife approach of handling 64 tasks. Enter The Pig.
The Pig was born in Austin, TX from the sheer genius/madness of Chris Moren. We can skip the details and the sales pitch because just about every firefighter in the U.S. knows what the Pig is and what it does best.
But, not content to rest on the reputation of his Pig, Chris responded to the requests of his old friends from the West Coast and designed something newer, lighter and some even say, arguably better. The Piglet.
If "the Pig is 8 pounds of fire ground domination…," what we've all heard before, what is the Piglet? I looked on the Lonestar Axe web site and found almost no information at all. I hit the internet to look up reviews for the Piglet. I was hit with about a hundred reviews and YouTube videos… all for the Pig, NOTHING for the Piglet. Oddly enough, I only found 2 or 3 pictures of the Piglet… ANYWHERE.
A tool in hiding? Did this tool even exist or what is just a rumor? I had my reasons for wanting a shot at this tool, but I really didn't want to bite the bullet and buy one without a little hands-on trial or at least finding out more about it.
I had used the Pig before and it was everything I expected, but now I was looking for a tool I could carry as an officer. For years I have carried the 6 pound flathead axe with a 36" handle. It served me well but, I wanted something new. Something that wouldn't leave me in a pinch during an incident and would still help me knock out roofing materials or give me a fighting shot at forcible exit if it came down to it. (For every person I have seen post something like this there is a critic who would argue that better training and focus on safety would prevent the need for forcible exit. My argument is simple… I will take my training and my tool over just my training.)
I decided to contact Lonestar Axe to find out a little more. I sent an e-mail to their customer service link on the web site. Within a few days I was talking to Chris on the phone. He took the time to call me and was willing to answer any questions I had about the tool. He even sent me a few pictures so I could compare the head size of the tool to the Pig… because face it, the Pig is a good reference point and I think most of us want to know the same thing… how does it compare to the Pig… in size, in weight, in function.
Let me add that Chris gave me a little history lesson on the tool and told me about why and how it was made. The company owner and designer was answering my questions directly. At NO point did I feel like he was trying to sell me anything and he was talking to a perfect stranger who was interested in what he was making. So, he either missed a good op to give a sales pitch or he hit a real home run and just gave me a chance to find out exactly what I wanted to know. Home run! In sales it is hard to find someone who listens and answers honestly. It felt just like I was talking to any brother firefighter. Chris is a firefighter's firefighter, that was apparent in the call – and that really is what drives him to make something we can use.
With that being said, let's get down to it. The Piglet is lighter in weight that the Pig. It boasts a head weight of 6 lbs. and gains a little weight with the epoxy bonding agent. The head shape is different that the Pig. The handle is shorter than the Pig. It still needs a little TLC to prevent surface rust, just like the Pig.
Head: skip the weight debate
I am an officer. I personally DO NOT carry a full set of irons, that is left for another member of my crew. I know the classic debate about tool head weight. Most of the purists in our profession think it sacrilegious to carry a flathead axe or striking tool with a head weight of less than 8 pounds. For the most part they are right. Head weight helps with efficiency and delivers punch. But as an officer I don't want to carry that around on long incidents. And, that two pound difference that I am sacrificing in exchange for not throwing the tool off to the side while searching is a good tradeoff. Throw the tool off to the side? Blasphemy! Unless you've actually worked scenes so long that you had to set tools down. Ever see a good high rise fire? Those stairwells are filled with hose and jettisoned tools and air bottles. And let's face it… a tool does you no good if you don't have it when you need it. So, I opted for a personal tool that I won't lay down. Which brings up something I had found to be nice about the tool… it stands on its head. When I do sit it down on an elevator or just at random next to me while on-scene, it stands up. I don't have to lay it down, prop it against something or bend all the way over to pick it back up. Grab the handle and go. Bonus for a guy in his 40's.
The nice squared off corners on the head are a plus for me. Not only do they smash and bite well into materials, but they deliver a flatter strike on a halligan. If I wanted a sledge hammer, I would pull out a sledge hammer, but I get better striking surface with an axe or Pig or Piglet. (Let's not get too far off the subject… This isn't an argument for what this tool can replace, this is a review and these were points that stood out to me. Everyone has their opinion and that is why this is not a sales pitch. It is a review of what I was looking for and points that come to mind quickly with the tool that I am using daily.)
Head shape.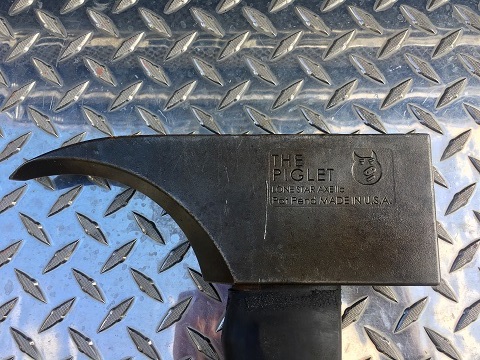 If you are familiar with the head of the Pig, this will look funny. In fact, I have been stopped at random times on-scene lately by firefighters who want to see what I have. They see the name Piglet and laugh, thinking it is a knock-off of the Pig. Far from it and I am the first to explain what it is. The striking edge is tough. I am not going to sit there and put cinder blocks in a row and switch back and forth between tools to demonstrate the effectiveness of the Pig vs. the Piglet. I think they are great in their own right and they are both strong and able to deliver a big strike if used properly. The corners of the flat end are tight and cut through material well when you need a good smash. Here is a picture of a commercial fire rated hotel door. (A local hotel was renovating and getting rid of perfectly good doors.) The Piglet chewed right them.
The pick or pike end of the tool has a little curve to it. The Pig has a straight, pointed pike and it is great for driving carriage bolts off of commercial doors to eliminate panic hardware and drop bars. The Piglet has a gentle curve to the pike. It digs well into wood… which translates to apartment and residential homes with wooden door jambs, ship lap, vinyl siding and just about anywhere in a residence you may want a purchase point. But, I wouldn't hesitate to pack it during a commercial job because it is a strong and versatile tool.
Handle.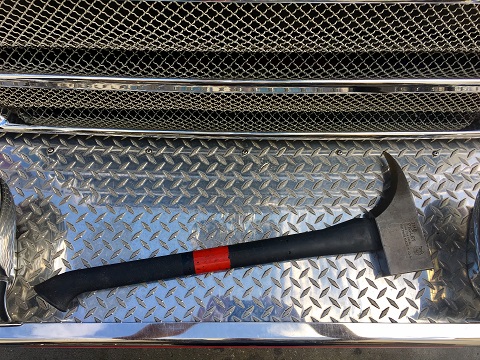 I am taller than some of my brothers and sisters. Standing 6'4, I have to say that I was a little uncertain of how I would like using a tool with a 28" handle. (The reason I mention a 28" handle is because this is standard on the Piglet and the only way I have seen it offered on Lonestar's web page.) So, while I was talking to Chris (in great detail about what I was looking for) he mentioned that we could go longer and put a 32" handle on the tool. BOOM! I just let the cat out of the bag. I may have one of the only factory set 32" Piglets in existence. But, this is a great argument for "if you don't ask, you will never get what you want." And Chris, listened to what I wanted. He explained to me that the tool would feel odd if the handle were any longer and the tool was never designed for a 36" handle. When it arrived and I got my hands on the tool I could see his point. But, after a little play time and using it on-scene, I sure like the 32" on mine. It doesn't feel odd. In fact, it swings well and delivers a great strike to the halligan in tight spaces. The handle feels solid and does not slip in your hands when you deliver a string or take a swing. There could be room for a little debate here with regard to some type of guard on the handle to prevent excessive damage in the event of an overstrike, but that can easily be remedied by the end user and a little bit of ingenuity.
The handle is a beast. I took another one of those commercial fire rated doors and drove the curved pike into it. Then I pried. Literally continued burying the pike and prying until I ripped the door to shreds. ZERO signs of loosening and save a few scratches, the handle was still rock solid and in great shape. The handle cleans up fairly easily and the shape of the fawn's foot at the bottom helps give you an idea of the orientation of the tool in total darkness without having to feel the tool to know which direction the head is facing.
Best use for me.
The Piglet is not the Pig. If you want a Pig, buy a Pig. If you carry heavy irons or like a sledge or maul better, I am not trying to sway you. It is not an axe, but it wasn't meant to be. BUT, if you want a versatile tool that can fit the bill very well and gives serious punch in a smaller package, this tool may be just what you are looking for. I give it two thumbs up. I wanted an officer's tool and this is it! I can give a timely strike to a bar or help knock out a vent job on a tough roof. I can vent a window and still have enough ass behind the tool to create a way out or get to somewhere better on-scene. To date I have chewed through OSB, sheetrock, commercial fire- rated doors and more with this tool and it is quickly becoming a favorite. Yes, this is a positive review. I may seem overly positive about my points, but when you get what you want you should be happy. Twenty years in and I just got a great tool that meets my needs very well. Hats off to Chris – and thanks to VentEnterSearch.com for letting me add my two cents.
*photos by VentEnterSearch staff
The post New Pig on the Block appeared first on VentEnterSearch.com.
Dan Rinaldi from Providence Fire Department sent in this door he recently had the pleasure of forcing on a run. Upon initial inspection, it appears to be a normal outward swinging metal door with no external hardware. Initially the door forced easy toward the top, but met some resistance down low.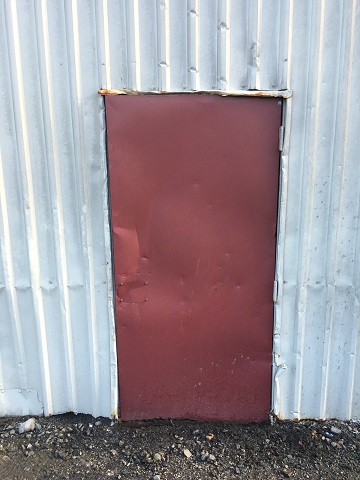 Upon closer inspection, the bottom edge of the door can be seen covered up to the hinge in asphalt. This obviously was preventing the door from swinging open. At this point, there are two main options, taking the hinge side, or finding another door. A quick peek inside made it clear which option they should choose. In this case, another door was located and forced without a problem. Like any good firefighter who is truly into the craft of firefighting, Dan had to go inspect the door closer after the call was complete. What he found inside validated that finding another entry point in this case was certainly the best option.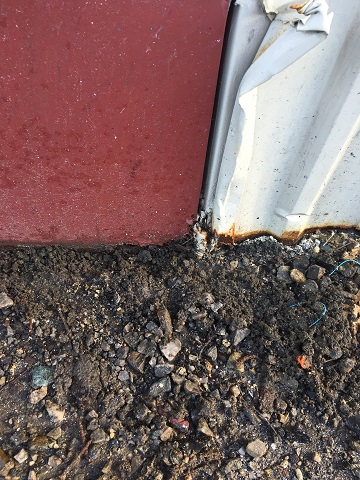 From the inside it became clear why it didn't matter to the building owner that the asphalt was preventing the door from swinging open; They obviously did not want this door to be used as an entry point. They welded a frame of one-inch rebar to the building behind the door.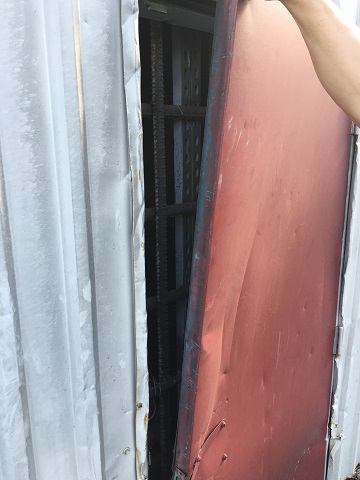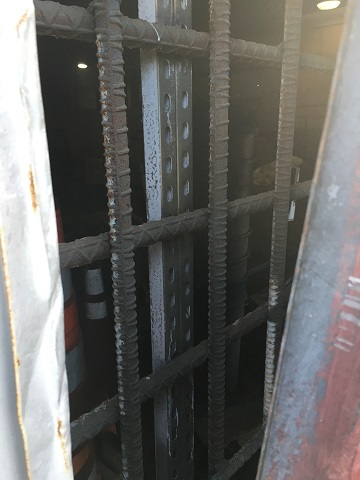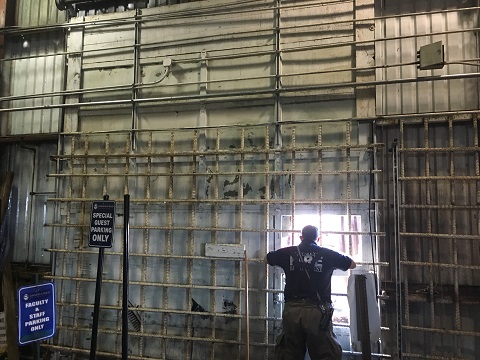 Sometimes the best decision we could make when forcing a door is to make the decision to stop forcing the door we are currently working on and finding a better option. This decision is extremely hard for many of us because we don't want to let the first door "beat us." We have to constantly keep our objective in mind. The objective is to gain entry in the fastest method possible. It is without a doubt that given enough time, we should be able to get through every door we ever come across. The truly disciplined firefighter knows when to say when, and abandon the first door and find a better option.
The post Know When to Say When appeared first on VentEnterSearch.com.
Engineer Caleb Eiriksson from Fort Walton Beach (FL) Truck Co. 6 sent in some photos of how he and the Truck 6 crew recently spent an afternoon out in their first due. They wanted to come up with options of how they could utilize a roof ladder on a large steep pitched roof. Obviously, being able to get the truck into position would eliminate the need for these options, but they wanted to see what other options they could find.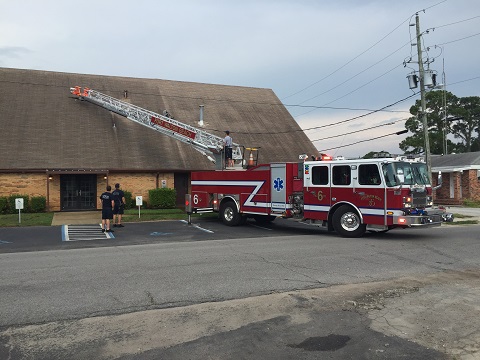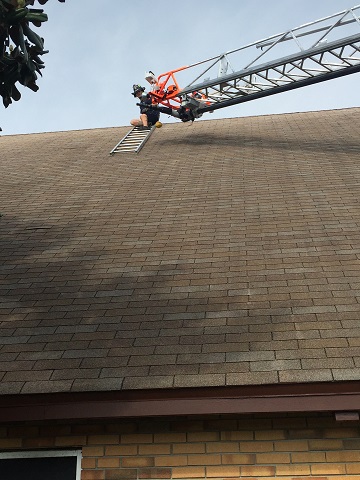 The first thing they tried was using a 24' extension ladder and conjunction with a 16' roof ladder. Which is traditionally their go-to option when dealing with most residential roofs in their area. Due to the pitch and height of the roof, this option was not able to reach the peak. This roof was too steep to walk on, and there were no valleys present to aide in the assent to the peak.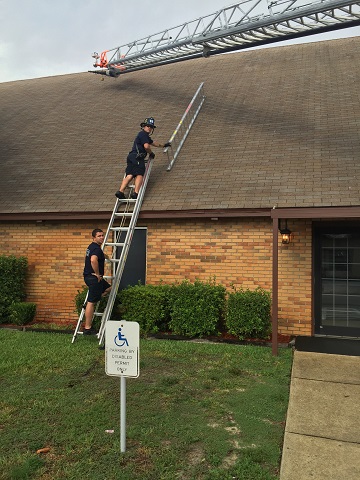 The next option they tested was using the same 24′ extension and 16′ roof combo. This time they matched the angle of the roof pitch with the 24 footer and then made a transition to the 16' roof ladder. As you can see from the photos, this option got them closer, but still came up short of the peak. This option would certainly work on a shorted height roof with this same pitch. It's worth mentioning that the bed section of the ladder is facing out (up) and the fly section is lying flat on the roof. Using the ladder is this fashion eliminates the ladder bouncing as you ascend the ladder.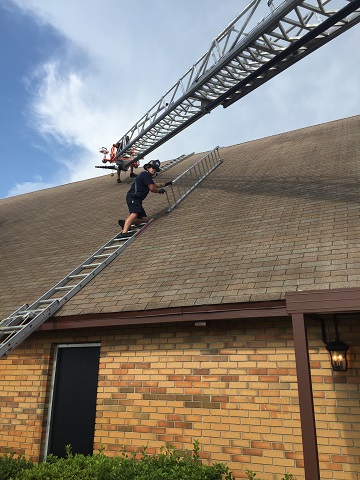 The next option they tested ended up being the winner for this particular roof: a 35' extension and a 16' roof ladder. By matching the angle of the roof, they essentially made the individual ladders into one long ladder. This combination proved to be a very stable working platform. Again, as mentioned earlier, the bed section of the ladder is facing in (resting on the roof) and the fly section is facing out to minimize the ladder bounce. They found the best way to get the ladder in place was to rest the beam on the roof, extend the ladder, then rotate into the bed down position on the roof. Once the 35′ is in position, simply ascend the 35′, and place the 16′ to the peak to get the job done.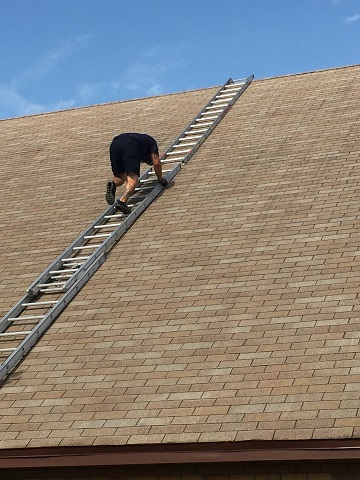 While this might not be an everyday roof tactic, it got the crews out into their first due, and they worked trough a challenge together. They worked through the challenge in a non-emergency situation, and would now be better prepared to deploy it for real if the need arose.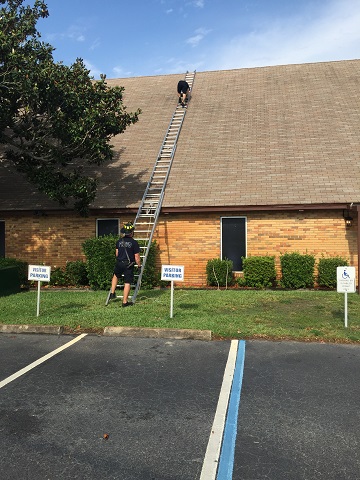 A special thanks to Engineer Eiriksson and the Truck 6 crew (Captain Mosley, Firefighter Corrigan, Firefighter Dowd, and Firefighter Shalduha) for thinking out of the box and taking the time to share what they found.
The post Problem with that Pitch appeared first on VentEnterSearch.com.